With luxurious and luxurious living space, including 69 fully equipped rooms, modern equipment, friendly space is tastefully and warmly decorated for you to rest comfortably. You will enjoy the most advanced facilities.
Make your stay more wonderful with comfortable, comfortable and luxurious rooms.
Đến Đà Nẵng, bạn sẽ được tham quan những địa danh nổi tiếng níu chân khách du lịch như: Bà Nà – chốn bồng lai tiên cảnh bậc nhất tại đây, bán đảo Sơn Trà – với những cung...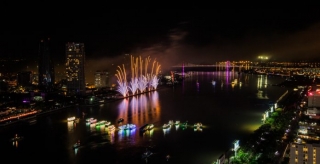 Lễ hội pháo hoa Quốc tế Đà Nẵng 2019 sẽ diễn ra trong 2 tháng, từ ngày 1 tháng 6 đến ngày 6 tháng 7 năm 2019 (Diff 2019)
Dana Marina Hotel Da Nang
Register
Enter your email address to get the latest news, special events and promotions delivered to your inbox.